The handmade beads used in this range of jewellery are inspired by a harvest of fruit and vegetables. This necklace is made from five 'harvest"beads of different shapes and sizes on a green ribbon that can be tied as a choker or longer necklace.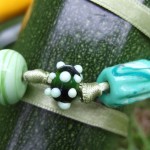 Here are some more necklaces, pendants and earrings from my "harvest" range. The earrings are on hand shaped stirling silver wire or hoops and the necklaces and pendents have ribbon ties.
I make my beads from glass using the lampworking/flameworking method. Each bead is individually made so no two beads are exactly alike. I use a studio at the Stourbridge based glassworks Plowden and Thompson.